PAY LATER
I use the breeches and top almost every day and have had the white competition top many competitions! 😃 I like everything very much
Can really recommend! The saddle pad is still, the riding tops are very comfortable and the breeches are the perfect combination of tights and breeches.
I use the breeches daily! Really all the time, they are really good! The waist is good and it has not become looser despite daily use. The knee grips are still good and haven't fallen off. The only negative is when the clothes have to be washed and then you have to find something else to wear in between 😎😂
I especially love the breeches 😍
I love them! Use them as soon as they are not in the wash 🤣 I think they are super nice and good quality! I also love that the pants are so comfortable at the same time that they have a good grip when riding because no other riding tights have that!
Have used them so much and really love them!!! Very comfortable with good grip 🥰
Both me and my daughter love the clothes from you and get many compliments in the stable
I think these are great clothes! The pants fit well, other pants I always have to wear belt because they slide down, but breija stays in place all the time, which is super nice! And I have very long legs and the fabric is enough so they really fit if you are tall☺️ The grip is good and the fabric is nice and supple, good with a bit sportier fabric I think😄👍🏻
Your clothes are the nicest I've had and ridden in so far 🙈 I love them!! I like the knee-grip the most, I think they look best. So hope you get them in more colors! 😁
I think they are great! Looks like new and not transparent at all 💕
I love wearing your clothes because they are so comfortable on the skin and look beautiful😍 I would wish that there were more products from you because I love your products more than anything ♥️.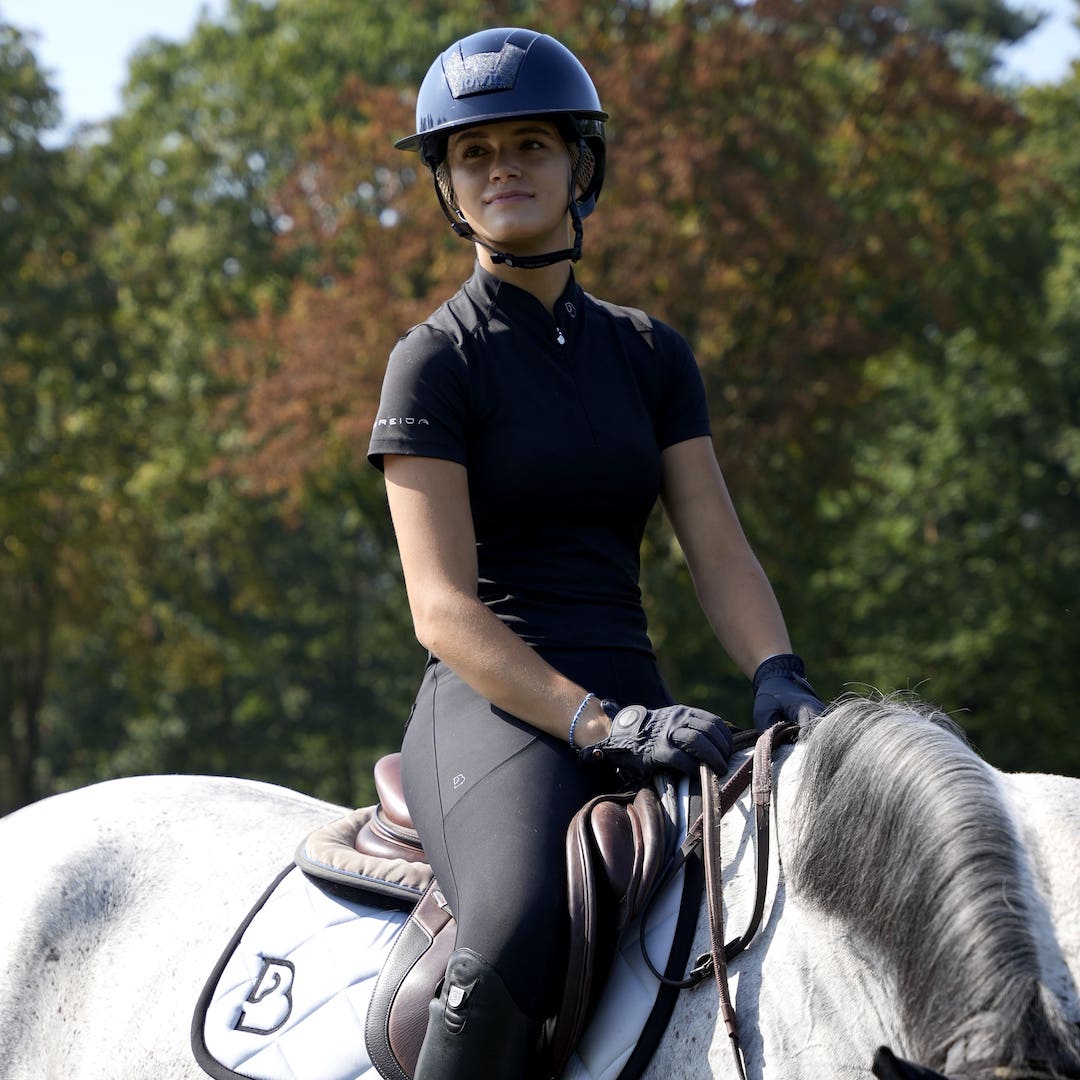 BREIJA - shop modern riding clothes and horse accessories online
Breija is a new equestrian brand launched in early 2023.
With a focus on comfort, function and design, we have produced appreciated riding clothes with a good fit and smart details that make the rider feel unrestricted, comfortable and stylish in the stable.
At the moment, we have in our range riding breeches and riding tops in different colors as well as saddle pads for horses and ponies. And we are developing more products that will be launched during next year.
All orders are packed and shipped the same day the order is received, alternatively the next working day if the order is placed on a holiday.
We promise great products, fast deliveries and secure payment options.